Traveling to OilComm
Conference & Exposition Venue
2900 Briarpark Dr.
Houston, TX 77042
T: (713) 978-740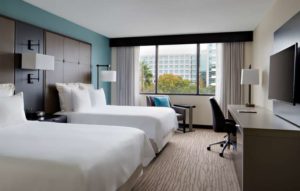 HOTEL DISCOUNTS
A discounted rate of $159.00 per night + tax will be available at the Houston Marriott Westchase. The deadline to book at this rate is Friday, September 25, 2020 or until rooms sell out. You can book online or call the Houston Marriot Westchase Directly at (713) 978-7400 and mention "OilComm 2020" for your discounted rate. Contact Ashlyn Geoffrey at ageoffrey@accessintel.com with any questions or concerns.
Rate: $159 Per Night + Taxes
Deadline to Book: Friday, September 25, 2020 or until all rooms are sold out!
**BEWARE OF MISLEADING ADVERTISING OFFERS THAT CLAIM TO PROVIDE ACCESS TO THE OILCOMM HOTEL BLOCK**
Badge Pick-Up and Registration:
The registration desk will be located on the first floor of the Marriott Westchase in Grand Pavilion Foyer. Please refer to our schedule of events badge for detailed registration hours.
We have been made aware that certain companies are targeting OilComm exhibitors and attendees to secure your rooms at the Houston Marriott Westchase through them. Please note that these groups are in no way affiliated with OilComm and beware of their false claims of having access to hotel rooms in the official OilComm room block. You will receive information directly from OilComm regarding any legitimate housing updates.

Traveling to Houston, TX
AIRLINE DISCOUNTS:
OilComm is pleased to announce that we have secured airfare discounts with United and Delta Airlines for OilComm participants. To take advantage of the discount please follow the directions below:
Delta Airlines: Reservations and ticketing are available via www.delta.comor by clicking here. You may also call Delta Meeting Network® at 1.800.328.1111* Monday–Friday, 7:00 a.m. – 7:30 p.m. (CT) and refer to Meeting Event Code: NMTTD. *Please note there is not a service fee for reservations booked and ticketed via our reservation 800 number.
United Airlines: Save with additional discounts off published fares by booking your own airfare online at www.united.com. Choose your flight times and access your discount by inserting ZHR8505409 in the Offer Code box. Or call your travel professional or United Meetings at (800) 426-1122 for reservations. Refer to Z Code: ZHR8 and Agreement Code: 505409. *Outside of the United States, please call your local United Airlines Reservation Office. Experience dependable, first-rate service, and earn miles in MileagePlus®, United's award-winning frequent flyer program. To enroll in MileagePlus®, log on to www.united.com.
NEARBY AIRPORTS:
George Bush Intercontinental Airport Houston (IAH)
2800 North Terminal Rd., Houston, TX
Tel. 281.230.3100
William P. Hobby Airport Houston (HOU)
7800 Airport Blvd., Houston, TX
Tel. 713.640.3000
TRANSPORTATION OPTIONS:
Houston Taxi Services
Super Shuttle: Receive a 12% discount when you book through OilComm!
ARE YOU AN INTERNATIONAL ATTENDEE?
Covid-19 Traveler Information: For the latest information on traveling to the United States amidst the Covid-19 pandemic, please reference the U.S. Department of State's Special Travel Information and Alerts Page. While onsite at OilComm, you can expect new event standard operating practices and procedures in an environment that follows federal and local guidelines. Please click here to read more about our commitment to your safety.
U.S. Visa Information: Please use the following checklist to help ensure that your visa interview is a success.
Request a letter of invitation from OilComm 2020. The sooner you request your letter of invitation, the better, as it may take longer to apply for a visitor visa.
Schedule an appointment with your embassy as soon as you receive your visa. Make your appointment early as wait times can be long in some countries. Please request your letter of invitation before you make your appointment and make sure you have your letter available for your interview.
Verify fees and requirements. Click here to find out about visa fees and methods of payment accepted by the embassy or consulate. The website also contains information on other requirements such as photographs.
Show proof of "strong ties" that bind you to your country of residence. The consular officers conducting interviews look for proof that you will return to your country. Evidence of "strong ties" includes proof of business ownership or employment, social and family relationships.
If you have traveled to the U.S. previously, provide documentation demonstrating that you returned to your country on time. Use an airline ticket stub or boarding pass to show your return flight or meeting materials that show you attended a business conference as proof that you returned within the time-frame you stated.
With your application, include any materials OilComm 2020 may have sent you. Include with your application any printed conference materials you received from OilComm 2020 to prove that the conference and exposition is a legitimate business event.
Present your entire trip itinerary with your application. Include any plans you may have to travel to any countries other than the United States, at the time of visa application.
NEARBY RESTAURANTS WORTH A VISIT
Looking for more tips on where to hang in Houston while you're in town for OilComm? Email Mike Conti, OilComm Show Director, and he'll give you more ideas!
October 14-15, 2020
Houston Marriott Westchase
Houston, TX
Register Now